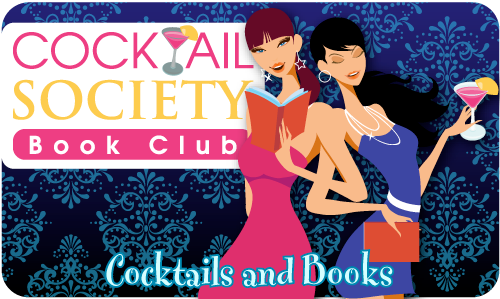 Every month the ladies of the
Cocktail Society Book Club
(on Goodreads) select a read to review and discuss on the first Wednesday of each month. The host that month also choses a fabulous cocktail that compliments the book to go along with her review.
Book of the month:
This month's book is Wicked as They Come by Delilah S. Dawson and is hosted by Jennifer @ The Book Nympho. Her cocktail of choice: Your favorite red wine.


Cocktail of the Month: Red Wine (My Pick)
I'm partial to white wine, but this Cabernet Sauvignon from Mad Housewife Wines is right up my alley...don't you just love that name?
Mad Housewife Cabernet Sauvignon
Ripe cherries, mint, and mocha characterize this soft, beautiful expression of the grape. The bouquet offers an explosion of sweet preserves while the palate is delighted with the smooth, lush sensations of silky Cabernet.
Title: Wicked as They Come
Author: Delilah S. Dawson
Series: Blud #1
Genre: Paranormal Romance/Steampunk
Publisher: Pocket Books
Format: ebook, 395 pages
Source: My Copy
Buy the Book:
Amazon
|
B&N
First in a steampunk-tinged paranormal romance series in which a woman is transported to a world filled with vampires and magic.

When nurse Tish Everett forced open the pesky but lovely locket she found at an estate sale, she had no idea she was answering the call of Criminy Stain, from the far off land of Sang. He'd cast a spell for her, but when she's transported right to him, she's not so sure she's ready to be under the spell of another man. (It didn't go so well last time with controlling, abusive, domineering Jeff.) If only Criminy wasn't so deliciously rakish….

Half the inhabitants of Sang are Pinkies—human—and the other half are Bludmen, who in Tish's world would be called vampires. But they don't mess with any of the bat/coffin/no sunlight nonsense. They're rather like you and me, just more fabulous, long living, and mostly indestructible. (They're also very good kissers.) But when the evil Mayor of Manchester (formerly Bludchester) redoubles his efforts to rid Sang of the Bludmen once and for all, stealing Tish's locket in hopes of traveling back to her world himself for reinforcements, Criminy and Tish must battle ghosts, sea monsters, wayward submarines, a secret cabal, and thundering Bludmares to get the locket back and allow Tish to return home…but has she found love with Criminy? Could she stay in Sang forever?


Alice in Wonderland meets Steampunk Freakshow!
Letitia "Tish" Paisley Everett, is in dire need of some excitement in her life. As a nurse specializing in hospice care, her days are spent taking care of mostly terminally ill patients, including her own grandmother. When she finds an antique locket in a book at an estate sale, Tish becomes so enamored by it she takes it home with her, without paying for it. Once she opens the locket, she's whisked away to an alternate world and meets the wickedly sexy and enigmatic Criminy Stain, a man who will steal her heart and forever change her world.
"I loved Jane Austen, so this rogue in a cravat was right up my alley, like an extra-naughty Mr. Darcy."
I instantly connected with Tish's character. She's just a normal woman who's been through heartbreak, has a career, responsibilities and confidence. Tish isn't your typical kick-butt heroine, but she's smart and sassy which I love just as much. Her logic clashes with the new supernatural world she's introduced to in Sang, but she puts her big girl panties on and adapts to her new environment of blud bunnies and submarines, without whining about it. It was fun to see this woman who mostly believes in science step out of her comfort zone and into a world of "vampire gypsies."
"Well, guess what, Jeff? I'm in Vampireland, putting on a corset, so screw you."
If things weren't crazy enough, while in Sang, Tish also has to deal with two suitors vying for her affection, the mysterious Bludman, Criminy and the charming Jonah (aka Casper) who is a Stranger, a human just like her. I saw the makings of a great love triangle with these three characters but to my disappointment it fizzled too quickly. I have to admit that while I love Criminy's sex appeal and gentlemanly ways, I found myself rooting for a romance between the other two characters for a good portion of the book. Even when she's conflicted in matters of the heart, her honesty and loyalty are admirable. Tish is a great leading lady with a fun personality and heart, she's definitely worthy of the heroine title!
"Caught between Sang and my other life, what sort of person would I become?"
Now onto the hero... Criminy Stain had me at "You're here." In my mind I picture a steampunk looking Johnny Depp, with the swagger of the infamous Jack Sparrow. To my delight, I would later find out I was not the only reader with this idea of Criminy. He's a magician and Bludman, best described as a living vampire, who has waited a long time for the perfect woman to walk into his life.
"He chuckled and leaned over me, and I felt like Little Red Riding Hood, caught in the shadows of a wolf."
Criminy is a fascinating hero to say the least. He's an alpha predator, exudes confidence and has a wicked charm you can't resist. He can be a little possessive when it comes to Tish but he's a true romantic which makes him a scrumptious total package! His personality is a bit overwhelming and I wasn't on board with the insta-love he felt for Tish, but it was delightful to see him courting her before anything happened between them.
"That's the best thing I've ever tasted in my life," he said. "Lift your skirt."
Delilah S. Dawson has created a dangerous but intoxicating world in Wicked as They Come. Time travel, magic, the supernatural and a little mystery are just a few of the highlights of this well crafted story. The intriguing world might be the shining star of Wicked as They Come, but its complex characters will equally win you over. Ms. Dawson's naughty and twisted world will hold you captive, you won't want to leave. Beware the bludbunnies!
My Rating