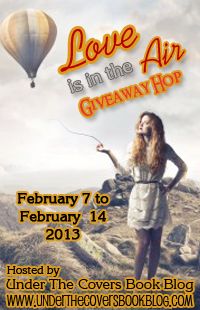 Welcome to the
Love is in the Air Giveaway Hop!
This hop is hosted by the fabulous maidens over at
Under the Covers Book Blog
and runs from
February 7th through February 14th
. We have over 100 blogs participating and hosting some awesome prizes during this hop, so there are plenty of chances to win!
Since this theme is centered around Valentine's Day, I chose to share my favorite literary couple for 2012 as my book giveaway. A few years ago I accidentally stumbled upon the a book by Larissa Ione,
Pleasure Unbound,
and was introduced to the fabulous Demoncia brothers. I quickly devoured those books and needless to say, was left wanting. Well, it wasn't long before Ms. Ione came through for me and gave us some more sexy men to drool over, The Lords of Deliverance. I fell in love with the four horsemen of the Apocalypse and found a new favorite paranormal couple in Regan and Thanatos.
In
Lethal Rider
, Than, the horseman of Death meets his match in Regan, an Aegis Guardian. While their relationship begins in betrayal, these two strong personalities heat up the pages with their intense chemistry and even make you laugh with their great sense of humor. I won't give away any more, but hope you enjoy a couple of my fave quotes from the book...

"So, what are you going to do now you're not frozen solid?"
"First, I'm going to kill those demons and that fallen angel behind you." The scorpion tattoo on his throat began to sting his neck, it's tail moving like a pulse, reminding Than that death was what he was meant for. Never one to argue with fate, he swung the scythe in a powerful arc, lobbing off one of the demon's two heads. He glanced back at Hades, who was looking like he may want some popcorn to go with the action.
"Then I'm going to do the same to the woman who betrayed me." - Than
"She turned to him, her cheeks burning red. "What is this? Vampire porn?"
"Yep."
"Oh, and this is a good one. Muffy the Vampire Layer." - Than & Regan
"You're going to pleasure me." He got a dark, wicked thrill from her sharp inhale. "Whenever I want. At my every whim." - Than
"For the next eight and a half months, you're going to be mine. Every. Night." - Than
"I got here as soon as I could." He strode over to Regan. "The message I got was that we are dealing with hypothermia?'
"Obviously," Than said, "she's better. No thanks to you. But she's having…what are they called? Breaking dicks?"
"Braxton hicks." - Than
Giveaway provided by Romancing the Dark Side
Giveaway Details:
Must be 18 years or older to enter
Open to US shipping ONLY
One copy of Lethal Rider by Larissa Ione (US ONLY)
Thanatos, the most deadly Horseman of the Apocalypse, has endured thousands of years of celibacy to prevent the end of days. But just one night with the wickedly sexy Aegis Guardian, ReganCooper, shatters centuries of resolve. Yet their passion comes with a price. And Thanatos must face a truth more terrifying than an apocalypse-he's about to become a father.

Demon-slayer Regan Cooper never imagined herself the maternal type, but with the fate of the world hanging in the balance she had no choice but to seduce Thanatos and bear his child. Now, as the final battle draws closer and his rage at being betrayed is overshadowed by an undeniable passion for the mother of his child, Thanatos has a life-shattering realization: To save the world, he must sacrifice the only thing he's ever wanted-a family.
Since love is in the air I'm also giving away a copy of the first book in this series,
Eternal Rider
, to a second winner!
Enter via widget below