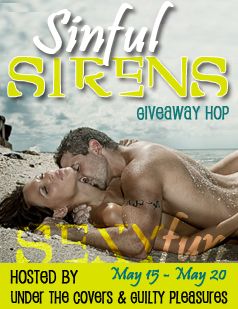 Welcome to the SINFUL SIRENS BLOG HOP!
Summer's just around the corner and there are two things a girl needs when she's at the beach (or at least this girl here does...) a great steamy read and some bling to go with her summer look! When it comes to sinfully sexy reads, nobody does it like my girl Larissa Ione. I fell in love with her Demonica brothers and just when I thought it couldn't get better, she introduces us to the Lords of Deliverance and the Four Horsemen of the Apocalypse! Nobody loves a tortured hero more than me and these guys (and gal) are dark, mysterious and did I mention HOT?! With the third installment in the series being released in just a few days, I knew I had a winner in choosing
Lethal Rider
as my giveaway. Why not start your summer by spending some time with Thanatos, the baddest of all the Horsemen?!
One print copy of Lethal Rider by Larissa Ione
They are here. They ride. The Four Horsemen of the Apocalypse.
Thanatos, the most deadly Horseman of the Apocalypse, has endured thousands of years of celibacy to prevent the end of days. But just one night with the wickedly sexy Aegis Guardian, Regan Cooper, shatters centuries of resolve. Yet their passion comes with a price. And Thanatos must face a truth more terrifying than an apocalypse-he's about to become a father.
Demon-slayer Regan Matthews never imagined herself the maternal type, but with the fate of the world hanging in the balance she had no choice but to seduce Thanatos and bear his child. Now, as the final battle draws closer and his rage at being betrayed is overshadowed by an undeniable passion for the mother of his child, Thanatos has a life-shattering realization: To save the world, he must sacrifice the only thing he's ever wanted-a family.
*In the event that the winner chosen is International, a second (US/CAN) winner will be chosen to receive the bracelet.
Enter via the widget below
Be sure to stop by the other participating blogs: