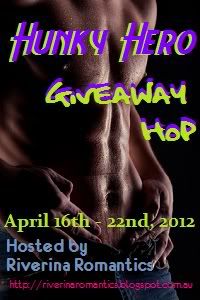 Blog hop runs from 12:01 AM April 16th through to 11:59 PM April 22nd, 2012.
So what is the 'Hunky Hero Giveaway Hop' all about??? It's a giveaway that focuses on a few of our fave Hunky Heroes in books. I have an extensive list of Hunky Heroes but I decided to share two hunky heroes I've read about recently and added to my list. I hope you enjoy them...I know I did!
Adam from Jacquelyn Frank's Nightwalkers Series...


Adam is the perfect Alpha hero in paranormal romance. He's tall, dark, handsome, a skilled warrior and a sexy water demon. As the younger brother of Jacob, Adam is pretty impulsive but always manages to come out of dangerous situations intact. His sharp instincts make him dangerous but even this hero has a soft spot...family. His loyalty is to his blood and there's nothing he won't do for them. How can you not fall in love with a man like him?
That's why I chose Adam as one of my Hunky Heroes!


And here's my second Hunky Hero...


Prince Dayn — Hero in Lord of the Wolfyn from the Royal House of Shadows Series by Jessica Anderson, Nalini Singh, Jill Monroe and Gena Showalter
Prince Dayn, the second son of the king and queen of Elden was born with good looks and a rebellious streak. He chose being a warrior and protector over ruling and marriage. Dayn is an Alpha in his own right, he's chivalrous and seductive with a little dark side...the added bonus, he's a shapeshifter with sensual mind powers..HELLO! This is one beast I'd love to tame!
Well, there you have it, two of my latest Hunky Heroes. Want your chance to meet them? Enter the giveaway below!

THERE WILL BE THREE (3) WINNERS FOR THIS GIVEAWAY.
{Winner #1 will have first pick of their prize. This giveaway is open to US/CAN only.}
One print copy of ADAM by Jacquelyn Frank
One print copy of LORD OF THE WOLFYN by Jessica Andersen
One heart beaded book thong
a Rafflecopter giveaway
Don't forget to check out all the participating blogs for more chances to win below: