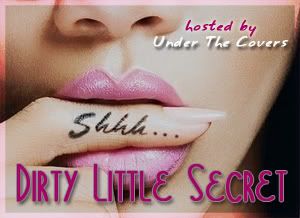 Dirty Little Secret is a new weekly meme hosted by the wonderful girls over at
Under the Covers
. It's a great way to get to know other bloggers and our readers more intimately by asking them a question hoping to reveal their dirty little secrets!
To participate in this meme all you need to do is:
Be a follower of Under the Covers.
Create a post in your blog taking the meme image and copy instructions.
Answer the question proposed.
Add your link to the Mr. Linky in the Dirty Little Secret post @Under the Covers.
Non-bloggers: We want to hear from you as well!!! Let us know your answer in the comments!
We hope you join us and let us know your
Dirty Little Secrets
!
This week's question:


If you could spend the day with any heroine, who would you pick and what would you do?
My answer:
I'd probably have another answer for this question if you asked me tomorrow due to my long list of fave heroines, but I just finished reading
Everdark
by Elle Jasper and am going with her heroine Riley Poe (how cool is that name?!). I'll admit she really won me over in this book. She's a Southern, bad ass tattoo artist who definitely holds her own! I'd love to spend the day with her in her shop Inksomnia, down in Savannah, Georgia, watching her work, hanging out with the hot Dupre vampires and possibly getting some ink of my own!
Go ahead...tell me your dirty little secret!