Follow {my Book Blog} Friday
is a weekly event hosted by
Parajunkee
and
Alison Can Read
.
This week's question:
Name 3 authors that you would love to sit down and spend an hour or a meal with just talking about either their books or get advice on writing from?
This is not an easy question to answer but I'm going to stick with some of my more recent favorite authors that I'll probably never get to meet in person...
J.R. Ward:
Who wouldn't love a real inside look into the Black Dagger Brotherhood?!
Kim Harrison:
I'd love to talk to her about her creative world in The Hollows and get some dirt on Rachel and her gang.
Kresley Cole:
Each of her books tops the last...it'd be interesting to know how she comes up with her love matches, especially in the Immortals After Dark Series.
This week's featured blogger is: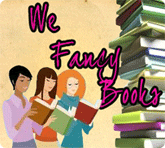 The Bloggers of: We Fancy Books