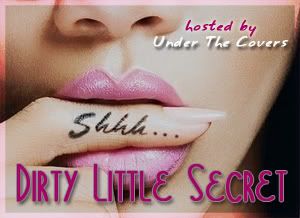 Dirty Little Secret is a new weekly meme hosted by the wonderful girls over at
Under the Covers
. It's a great way to get to know other bloggers and our readers more intimately by asking them a question hoping to reveal their dirty little secrets!
To participate in this meme all you need to do is:
Be a follower of Under the Covers.
Create a post in your blog taking the meme image and copy instructions.
Answer the question proposed.
Add your link to the Mr. Linky in the Dirty Little Secret post @Under the Covers.
Non-bloggers: We want to hear from you as well!!! Let us know your answer in the comments!
We hope you join us and let us know your
Dirty Little Secrets
!
This week's question:


What book was your first erotica romance read?"
If you don't read erotica, what book started your reading obsession?
I'm still fairly new to erotica but my real first erotica read was Anne Rice's The Claiming of Sleeping Beauty...unfortunately for me (Francesca I share your pain!). After that book, I gave up on erotica for a while...my next erotica read was Be My Warlock Tonight by Renee Field, an erotic paranormal romance by Ellora's Cave that I loved! This book showed me another side of erotic romance that was naughty and not disturbing and now I'm hooked, the smuttier the better!
Go ahead...tell us your dirty little secret!