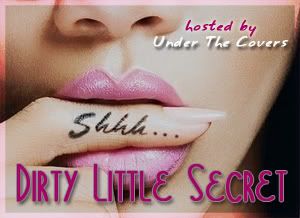 Dirty Little Secret
is a new weekly meme hosted by the wonderful girls over at
Under the Covers
. It's a great way to get to know other bloggers and our readers more intimately by asking them a question hoping to reveal their dirty little secrets!
To participate in this meme all you need to do is:
Be a follower of Under the Covers.
Create a post in your blog taking the meme image and copy instructions.
Answer the question proposed.
Add your link to the Mr. Linky in the Dirty Little Secret post @ Under the Covers.
Non-bloggers: We want to hear from you as well!!! Let us know your answer in the comments!

We hope you join us and let us know your Dirty Little Secrets!


This week's question:
"Do you prefer furry or fanged?"
Hands down fanged! Although I have much love for my shapeshifters and werewolves...there's just something about vampires I just can't resist! What can I say, I'm a sucker for the fanged...but I must say, when I met Con in Larissa Ione's Demonica series I said..wow a half-werewolf, half-vampire...that's my kind of Alpha Male!!
Go ahead...tell us your dirty little secret!